A Rich Heritage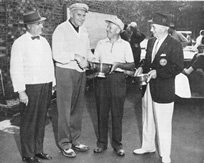 (L to R) Chester Williams, Secretary, Jack Harkins,
Q. G. McCombs 1959 Champion,
H. G. Phillips, President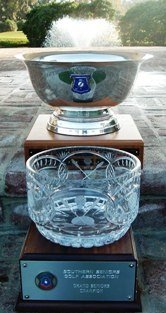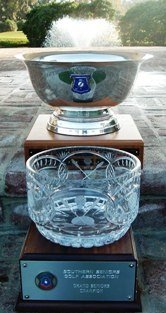 Perpetual Trophies
Welcome to
The Southern Seniors Golf Association!
Southern Seniors are amateur golfers from throughout the U.S. who share an 88-year tradition of friendly competition and fellowship. Tournaments are played at top resorts and clubs, including several "bucket list" golf courses. Players experience "Moments of Greatness" and "Not so Greatness" - all with words of praise and encouragement. Members may also share reciprocal privileges at their home clubs. On the golf course and at social gatherings, there is a true sense of friendship, fun and belonging. Come join us to enjoy the game of golf and the game of life!
2018 SSGA Champions (left to right)
Wes Clark
-
Senior Champion
Susie Dauber
-
Womens Champion
George McInnis
-
Grand Senior Champion
"Our senior golf association stimulates our emotional and physical being. After the round we reminisce and there are always treasured memories of what we did, or almost did."
- Roy W. Godley, Hilton Head Island, SC
Our Next Event
First, The Annual Championship at the Sea Island Resort in Sea island, GA. Our 2019 Season Champions are crowned on the same courses the PGA Tour plays on 2 weeks before! Spectacular golf at a spectacular Gold Medal Golf Resort!

Next, The President's Trophy at the Trump National Doral Resort in Miami, FL. Our 2020 Season begins with a January "Retreat from Winter" at a Gold Medal Golf Resort. Play the famous "Blue Monster" with us!
"Wow, what a golf tour... Come join us!"
Introducing New Members and Sponsors
J. Benjamin Warren & Lisa
Shreveport, LA
George & Boopie McInnis

Sam Booke & Cindy
Charlotte, NC
Ray & Coco Killian

Thomas Edgerton & Ann
Pinehurst, NC
Ray & Coco Killian

Fred Del Gaudio & Teresa
Hilton Head Island, SC
Ron & Peggy Ianoale

Jesse Webster & Louise
Salem, VA
Jack & Mary Helms

Kevin Caple & Madelyn
Charlotte, NC
Ray & Coco Killian

Richard Schmidt & Kristina
Southern Pines, NC
Ray & Coco Killian