A Rich Heritage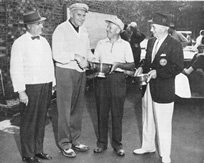 (L to R) Chester Williams, Secretary, Jack Harkins,
Q. G. McCombs 1959 Champion,
H. G. Phillips, President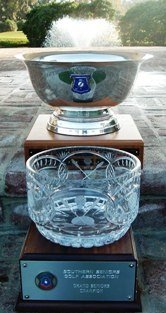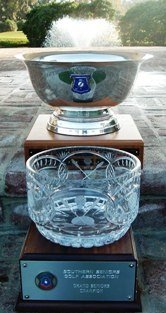 Perpetual Trophies
Welcome to
The Southern Seniors Golf Association!
Southern Seniors are amateur golfers from throughout the U.S. who share an 88-year tradition of friendly competition and fellowship. Tournaments are played at top resorts and clubs, including several "bucket list" golf courses. Players experience "Moments of Greatness" and "Not so Greatness" - all with words of praise and encouragement. Members may also share reciprocal privileges at their home clubs. On the golf course and at social gatherings, there is a true sense of friendship, fun and belonging. Come join us to enjoy the game of golf and the game of life!
2019 SSGA Champions (left to right)
Steve MacIsaac
-
Senior Champion
Karen Stewart
-
Womens Champion
Dick Horton
-
Grand Senior Champion
*******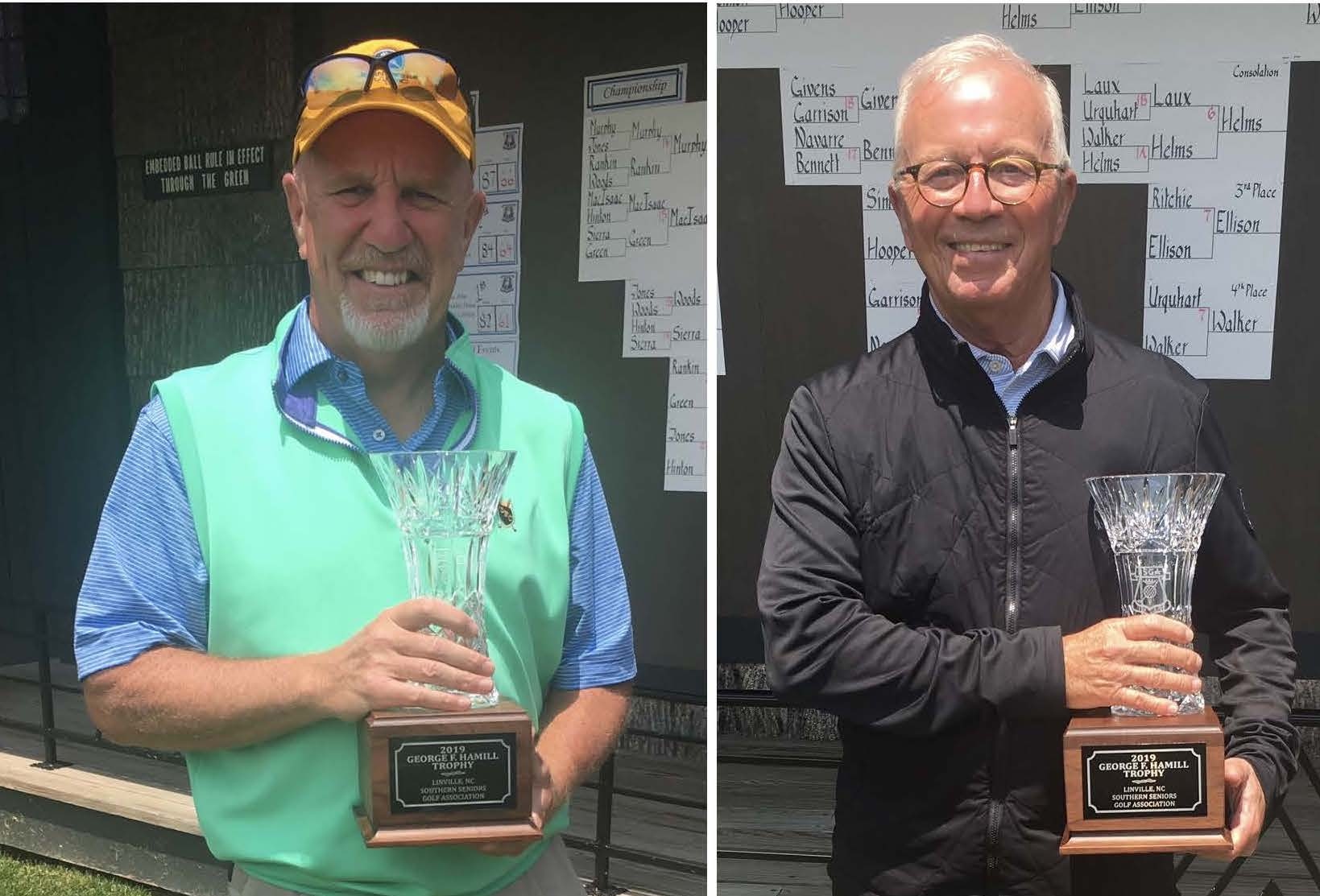 The 2019 "Hamill Trophy" Champions
@ Linville Golf Club, NC
Tim Murphy -
Senior
... Rick Yeary -
Grand Senior
"Our senior golf association stimulates our emotional and physical being. After the round we reminisce and there are always treasured memories of what we did, or almost did."
- Roy W. Godley, Hilton Head Island, SC
Our Next Event
First, The Copperhead Classic at the Innisbrook Resort in Palm Harbor, FL. This March event gives our northern members another chance to escape winter and our southern members a celebrated "local" site. We will challenge the famous Innisbrook courses... including "Copperhead", the PGA Tour course! - CANCELLED due to COVID-19 situation!!!

Next, The 45th Annual Hamill Trophy at the Eseeola Lodge in Linville, NC. This Match Play Championship event is always a highlight of the SSGA Calendar. "Wow, what a golf tour... Come join us!"
Introducing New Members and Sponsors
John Oxaal & Marjorie
Bahama, NC
Jeff Howard
Elmo Greer & Marsha
London, KY
Lynn McPheeters
David Dahl & Diane
Hilton Head Island, SC
Lynn McPheeters
David Penzone & Sheila
Pensacola, FL
Mike & Annie Mazenko
Kevin Hart & Sharon
Lake Worth Beach, FL
James & Carole Fanning
Joel DuBoff & Susan
Potomac, MD
Don Meyer