The Hamill Trophy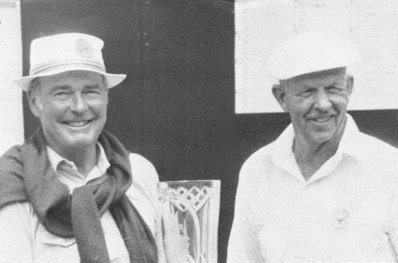 John Pottle (L) presenting The George Hamill Trophy to Bob Wallace, 1981 Champion
From 1975 to 2021, The Hamill Trophy Match Play Championship was played every year at Linville, NC. At this event senior golfers enjoy a rare combination of private club privilege, genuine service, and Southern Seniors tradition.
Longtime Southern Senior and Linville President John Pottle was instrumental in establishing the personal hospitality that continues today through our hosts John Blackburn, President and Tom Dale, General Manager and former Director of Golf.
Both Senior Golfers and Grand Seniors Championship Flight's are established by index and play at scratch. Seniors and Grand Seniors play flights of eight. Other participants are also flighted by handicaps and play with the full difference. Winners names are engraved on the permanent trophy which resides at the Linville Golf Club. An optional 18-hole two-man team stroke play event is held on the final day at another area club.
All matches are played on the Linville golf course which was designed by Donald Ross in 1923. It is a risk-and reward course, one that penalizes poor play, but is eminently fair. The course was created by hand, using mule and pan grading, and has kept the small, severe greens inherent in Ross' design. The poa annua grass, which flourishes in Linville's climate, is cultivated along with bent, clover, blue and other indigenous grasses.
In 2008 Golfweek Magazine ranked Linville 42nd on it's Best Resort Courses list. Golfweek went on to say Deep in the heart of the Blue Ridge Mountains rests a magnificent golf sanctuary whose beauty and charm continue to grow even greater with the passage of time. Celebrated as one of the most esteemed championship courses in the Carolinas, Linville Golf Club offers a truly remarkable challenge for both beginners and pros.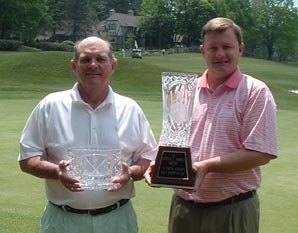 (L to R) Bob Ferrel, Seven-Time Champion, receiving The Hamill Trophy from Tom Dale,
Linville Director of Golf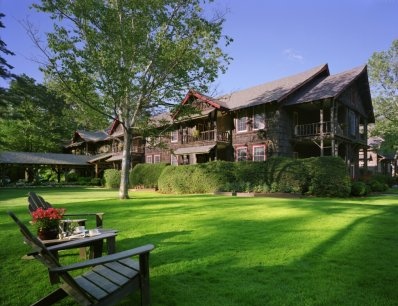 The Eseeola Lodge
General Manager, and former Director of Golf, Tom Dale, whose father Burl Dale was the pro at Linville for 25 years, has heard scores of golfers comment that if they had to choose one course to play for the rest of their lives, it would be Linville. Linville is not the longest, nor the most difficult course, Tom says. It is the most enjoyable.
Golf Digest Magazine agrees with Tom. In its September 2012 first-ever listing of the Top 50 Most Fun Courses, Linville G.C. ranks 11th: "A wonderful layout features grand elevation changes, few flat lies, and smooth, speedy greens".
Ladies play separate 18-hole events at Linville Golf Club, Linville Ridge Country Club, Grandfather Golf and Country Club and Blowing Rock.
In Linville's undeveloped natural setting there are no large hotel facilities. Southern Seniors instead choose from a variety of small lodgings and inns. The most sought after is The Eseeola Lodge, adjacent to the golf club and owned by Linville Resort. Esseola is a Cherokee name, meaning river of cliffs referring to waterfalls in the area. The Lodge provides deluxe accommodations, optional American Plan or bed and breakfast rates, exquisitely landscaped grounds, and a full service spa. Two and three bedroom rental homes and condominiums within easy walking distance of Eseeola and the golf club are also available.
Our traditional date is the week immediately before Memorial Day. It is delightful spring weather in the North Carolina mountains. The Hamill Trophy at Linville may be oversubscribed. Tournament announcement and entry information are available in March.
Grandmother Creek at Linville Golf Club
As the Linville area golf clubs evolved into a Member Only environment, in 2022 the SSGA moved our Hamill Trophy tradition to the Pinehurst Resort, "The Home of American Golf" and also an integral site of the formulation of the Southern Seniors. The Hamill Trophy "Southern Hospitality" and "Enjoyable Competition" continue and evolve at Pinehurst!