Championship Trophy Case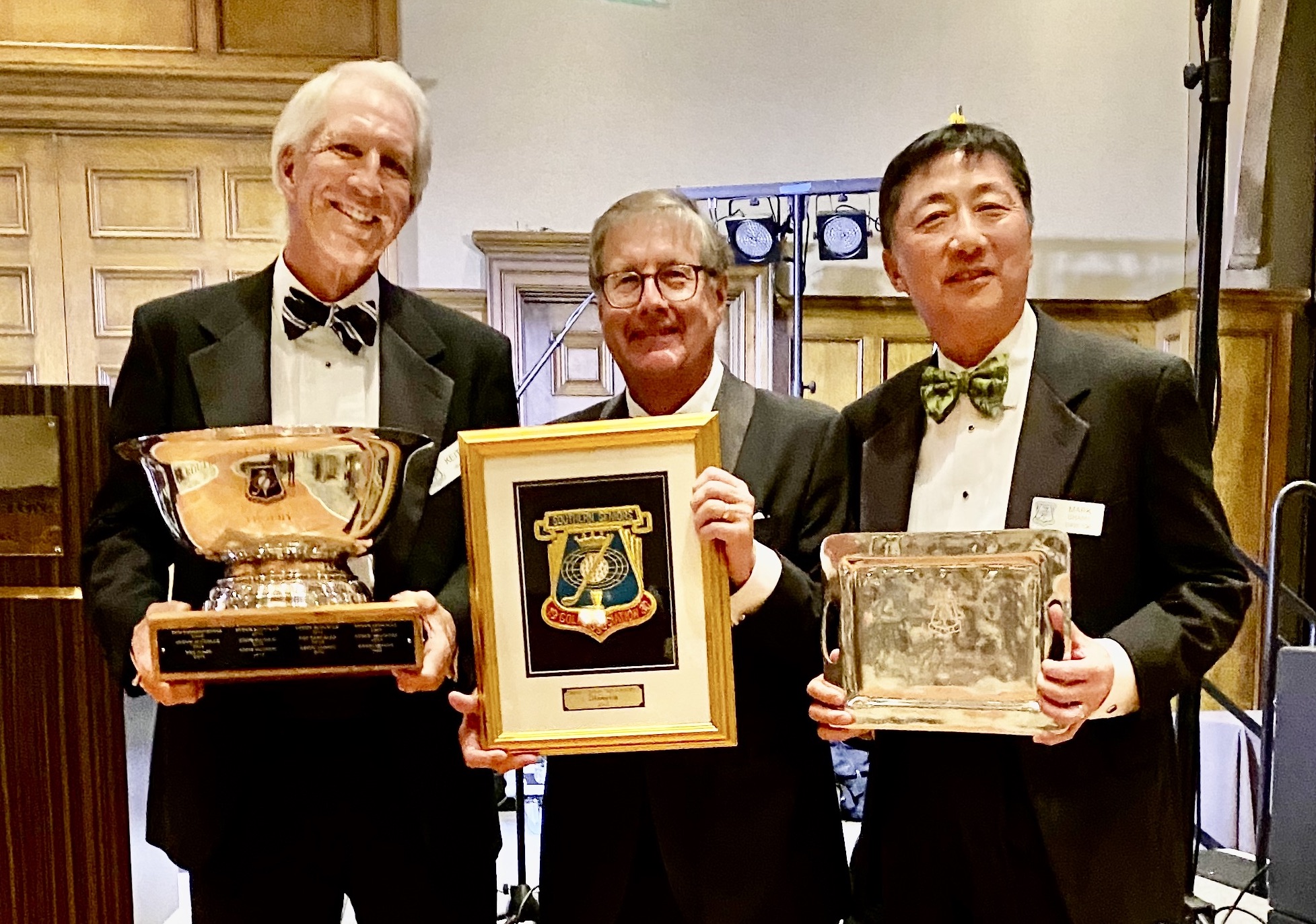 Keith Hensel (left)
2022 SSGA Champion
Bill Urquhart (center) - 2022 President
Mark Chang (right) Runner-Up

The 2022 SSGA Annual Championships featured 120 member golfers from all over the US (our modern, expanded version of "Southern Seniors"). Members competed in the Senior Division, Grand Senior Division and Ladies Championships on four championship courses at the Ritz Carlton Reynolds Lake Oconee in Georgia.
The Championship Flight in the 92nd Annual Southern Seniors Championship was contested as individual match play at scratch. The title of "2022 SSGA Champion" was earned by Keith Hensel from Lakeland, FL. Mark Chang from Johnson City, TN was runner-up and John Oxaal (Bahama, NC ) and Jim Cooper, (Piney Flatts, TN) were semi-finalists.
All flights other than Championship Flight in each division competed in the traditional match play NET scoring format with Flight Champions, runners-up and consolation winners recognized. Several new friendships were created even when not recognized with trophies!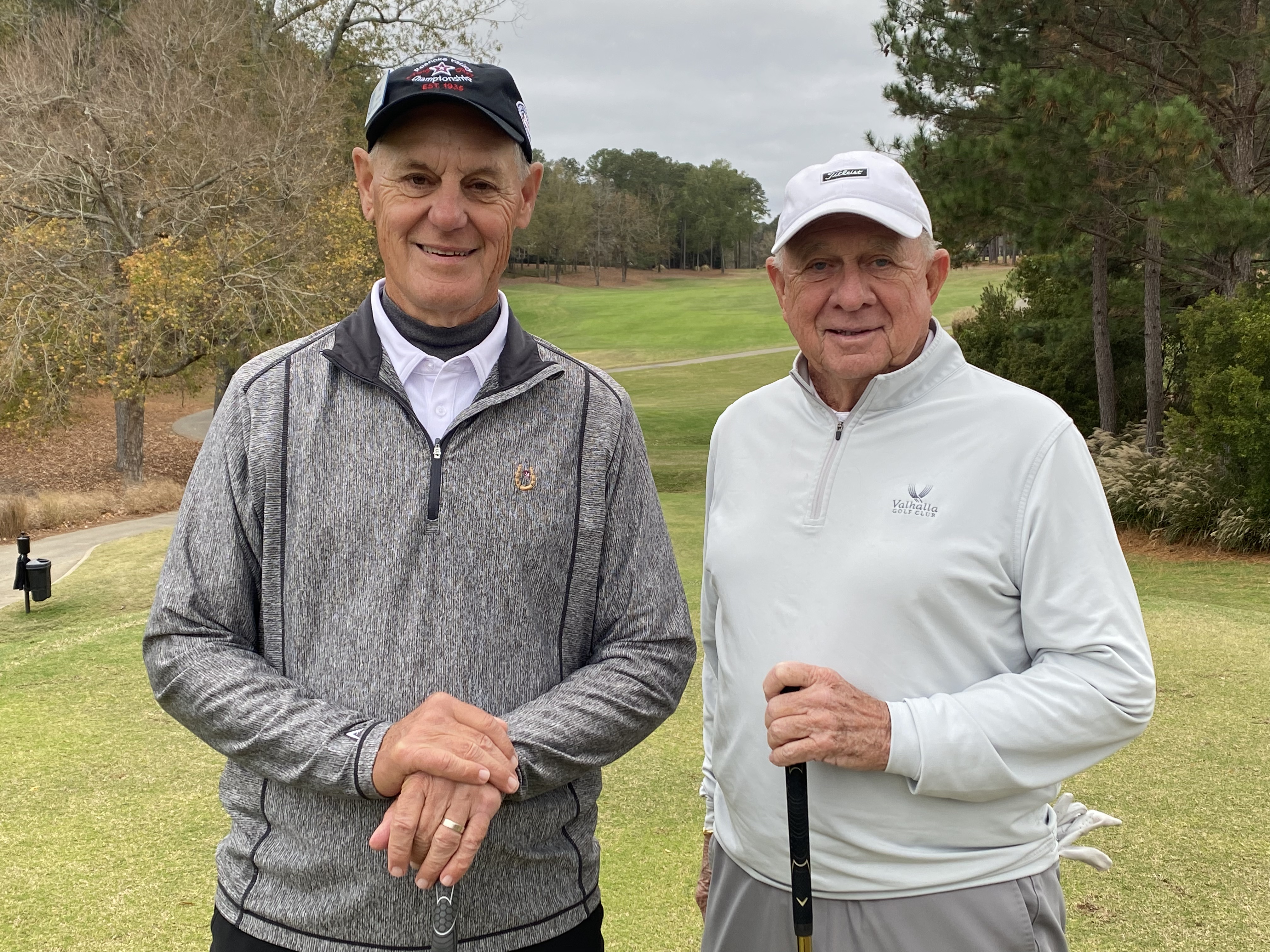 Pat Parcells (left)
2022 Grand Seniors Champion
Elmo Greer (right) Runner-Up


SSGA Grand Senior Division Championship - The Grand Senior Championship Flight played match play from 6,000 yards at scratch on the Reynolds Lake Oconee Great Waters, Creek Club and Landings courses. The regular Grand Senior Flights played the traditional match play format with net scoring at 5700 yards. Again, more friendships were created than trophies awarded!
The title of "2022 SSGA Grand Senior Champion" was earned by Pat Parcells from Moneta, VA. Elmo Greer, from London, KY was runner-up and Dick Horton (Nashville, TN) and Roger Petrin (Bonita Springs, FL) were semi-finalists.
| | | |
| --- | --- | --- |
| 1930 | A. Paul Bagby | Williamsburg, KY |
| 1931 | Howard G. Phillips | Pinehurst, NC |
| 1932 | Charles H. Jennings | Miami Beach, FL |
| 1933 | Charles H. Jennings | Miami Beach, FL |
| 1934 | Francis C. Robertson | Pinehurst, NC |
| 1935 | Francis C. Robertson | Pinehurst, NC |
| 1936 | Bryson W. Biggs | Raleigh, NC |
| 1937 | Bryson W. Biggs | Raleigh, NC |
| 1938 | Robert Lowry | Shamokin, PA |
| 1939 | James T. Kilpatrick | Greensboro, NC |
| 1941 | Bryson W. Biggs | Raleigh, NC |
| 1947 | W. Latimer Brown | Charlotte, NC |
| 1948 | Richard S. Tufts | Pinehurst, NC |
| 1949 | Arthur F. Lynch | Scarsdale, NY |
| 1950 | Ben F. Kraffert, Jr. | Titusville, PA |
| 1951 | Ben F. Kraffert, Jr. | Titusville, PA |
| 1952 | Ben F. Kraffert, Jr. | Titusville, PA |
| 1953 | Frank B. Edwards | Spartanburg, SC |
| 1954 | John W. Roberts | Columbus, OH |
| 1955 | J. Walcott Brown | North Palm Beach, FL |
| 1956 | John W. Roberts | Columbus, OH |
| 1957 | J. Walcott Brown | North Palm Beach, FL |
| 1958 | J. Walcott Brown | North Palm Beach, FL |
| 1959 | Quentin G. McCombs | Burlington, NC |
| 1960 | William S. Terrell | Charlotte, NC |
| 1961 | Dorsey Nevergall | Pompano Beach, FL |
| 1962 | Dorsey Nevergall | Pompano Beach, FL |
| 1963 | James Edwards | Kingsport, TN |
| 1964 | John S. Connnolly | Arlington, VA |
| 1965 | Nolan S. Hatcher | Florence, AL |
| 1966 | Nolan S. Hatcher | Florence, AL |
| 1967 | Curtis Person | Memphis, TN |
| 1968 | Curtis Person | Memphis, TN |
| 1969 | Norton Harris | Key West, FL |
| 1970 | Elliott B. Smith | Greenville, TN |
| 1971 | Norton Harris | Key West, FL |
| 1972 | Norton Harris | Key West, FL |
| 1973 | B. C. McCall | Chattanooga, TN |
| 1974 | George W. Pottle | Southern Pines, NC |
| 1975 | Neill Croonquist | Edina, MN |
| 1976 | Dale Morey | High Point, NC |
| 1977 | John P. Morrell | Clover, NC |
| 1978 | Harry Lee Welch | Salisbury, NC |
| 1979 | W. Brown McDonald | Warner Robins, GA |
| 1980 | Dale Morey | High Point, NC |
| 1981 | W. Brown McDonald | Warner Robins, GA |
1982
John P. Morrell
Clover, SC
1983
John P. Morrell
Clover, SC
1984
John P. Morrell
Clover, SC
1985
John P. Morrell
Clover, SC
1986
Tom Green
Kerrville, TX
1987
Edward A. Ingle
Chattanooga, TN
1988
Roger T. McManus
Mt. Pleasant, SC
1989
Richard E. Goerlich, Jr.
Tampa, FL
1990
Richard E. Goerlich, Jr.
Tampa, FL
1991
Richard E. Goerlich, Jr.
Tampa, FL
1992
Richard E. Goerlich, Jr.
Tampa, FL
1993
Jay Baumgardner
Bristol, TN
1994
George Gilbert
Dataw Island, DC
1995
Tom Raney
Little Rock, AR
1996
Raymond "Bubba" Nelson
Houston, TX
1997
Tom Metzgar
Haines City, FL
1998
Dave Daniels
Richmond, VA
1999
Ben Cornett
Dunwoody, GA
2000
Cliff Perry
Winston-Salem, NC
2001
Bill Lee
Charlotte, NC
2002
Bill Lee
Charlotte, NC
2003
Gordon Huey
Virginia Beach, VA
2004
Tom Metzgar
Haines City, FL
2005
C. W. Mayes
Andersonville, TN
2006
Steve Scoville
Binghamton, NY
2007
Joe Tippett
San Antonio, TX
2008
Dwight Duke
Duluth, GA
2009
Steve Scoville
Binghamton, NY
2010
Don Kronewetter
N. Myrtle Beach, SC
2011
Steve Scoville
Binghamton, NY
2012
Steve Scoville
Binghamton, NY
2013
Steve Scoville
Naples, FL
2014
Steve Scoville
Naples, FL
2015
Steve MacIsaac

Mooresville, NC

2016
Pat Parcells

Moneta

, VA

2017

Steve

MacIsaac

Mooresville, NC

2018

W

es C

lark

Charlotte, NC

2019

2020

2021

2022

Steve MacIsaac

Keith Hensel

Keith Hensel

Keith Hensel


Mooresville, NC

Lakeland, FL

Lakeland, FL

Lakeland, FL




| | | |
| --- | --- | --- |
| 1994 | Clifford M. Kirkland, Jr. | Atlanta, GA |
| 1995 | Jay Bleakley | Hilton Head Island, SC |
| 1996 | Clifford M. Kirkland & | Atlanta, GA |
| | Jack Rathbone | Baton Rouge, LA |
| 1997 | George Gilbert | Dataw Island, SC |
| 1998 | George Gilbert | Dataw Island, SC |
| 1999 | George Gilbert | Dataw Island, SC |
| 2000 | Marion Hatcher | Orlando, FL |
| 2001 | Ed Ingle | Chattanooga, TN |
| 2002 | Frank Quimby | St. Simons Island, GA |
| 2003 | Dick Flynn | Naples, FL |
| 2004 | John Sterchi | Knoxville, TN |
| 2005 | Ed Ingle | Chattanooga, TN |
| 2006 | George Skelton | Bristol, VA |
| 2007 | Jerry Dempsey | Greenville, SC |
| 2008 | George Skelton | Bristol, VA |
| 2009 | George Skelton | Bristol, VA |
2010
Sam Wallace
Hartfield, VA
2011
Walter Gross
Indianapolis, IN
2012
Jerry Lancaster
Santa Rosa Beach, FL
2013
Jerry Lancaster
Santa Rosa Beach, FL
2014
Bill Beebe
West Chester, OH
2015
Fritz Blaicher
Vero Beach, FL
2016
Lynn McPheeters
Nashville, TN
2017
George McInnis
Panama City Beach, FL
2018
George McInnis
Panama City Beach, FL

2019

2020

2021

2022

Dick Horton

Gordon Jones

Rusty Boyd

Pat Parcells


Nashville, TN

Asheville, NC

Birmingham, AL

Moneta, VA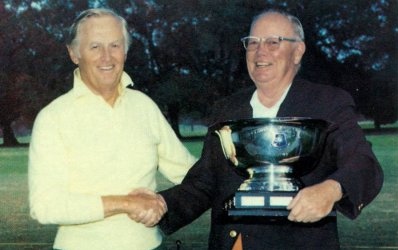 Five-Time Winner John Morrell (L), Champion in 1977,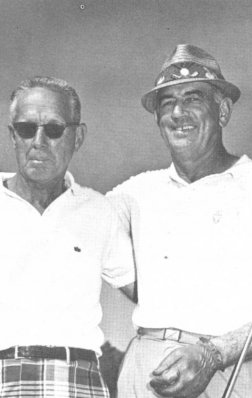 Thruston Pettus, runner-up (left)

and Curtis Person,

1967 Champion