Officers


Stokes Ritchie
Third Vice-President



2020 Board of Directors (L to R):
Front row: Bob Kunes, Ray Killian, Gordon Jones, Jack Helms, Bill Urquhart
Second row: Doug Ross, Paul Gaines, Bill Chase, Lynn McPheeters
Third row: Stan Trimble, Bob Stanley, Steve Scoville, Bill Chiappetta, Steve Dauber
Fourth Row: Rusty Boyd, Steve MacIsaac, Frank Leiter, Stokes Ritchie, George McInnis
Not pictured: Frank Hayes, Ian Lloyd-Jones, John Green, Steve Points, Steve Morris, Bob Stein

Annual Membership Meeting

All members receive the announcement of the meeting which is held during the year-ending Annual Championship. In accordance with bylaws, director nominations are sent to the membership with the meeting announcement and a slate of eight directors is then elected for a three year term. The Board of Directors establishes general policy for the administration and management of the association. Board meetings are held semiannually at Linville, NC and during the Annual Championship. The President presides at all meetings and directors serve on committees as assigned by the President. The Tournament Committee is chaired by the First Vice President. The Membership Committee is chaired by the Second Vice President. The Finance Committee is chaired by the Third Vice President. All five officers comprise the Executive Committee which meets during each tournament throughout the year. Questions regarding governance may be directed to Bill Johnstone, Executive Director, at ssga@southernseniorsgolf.com.
---
2020 Board of Directors



Tournament Committee
Ray Killian, Chair
Paul Gaines
George McInnis

Charlotte, NC
Bluffton, SC
Panama City Beach, FL

Steve Dauber
Steve Walker
Rusty Boyd

Simpsonville, SC
Shreveport, LA
Birmingham, AL
Finance Committee
Bill Chase, Chair
Frank Hayes
Lakeland, FL
Bristol, VA
Frank Leiter
Stokes Ritchie
Marietta, GA
Charlotte, NC



Membership Committee
Bill Urquhart, Chair
Bill Chiappetta
John Green
Ian Lloyd-Jones
Steve MacIsaac
Lynn McPheeters

Mobile, AL
Hilton Head Island, SC
Charlotte, NC
Atlanta, GA
Mooresville, NC
Nashville, TN

Steve Morris
Steve Points
Doug Ross
Bob Stanley
Bob Stein
Stan Trimble

Knoxville, TN
Pinehurst, NC
Alpharetta, GA
Vestavia Hills, AL
Bonita Springs, FL
Anderson, SC
Past Presidents
1949
1950
1951
1952
1953
1954
1955
1956
1957
1958
1959
1960
1961
1962
1963
1964
1965
1966
1967
1968
1969
1970
1971
1972
1973
1974
1975
1976
1977
1978
1979
1980
1981
1982
1983
1984

Howard G. Phillips
Louis B. Orrrell
Bryson W. Biggs
Russell B. Lentz
Dr. Paul A. Munsell
William J. Yates
Frank B. Edwards
R. P. Mayer
John R. Chappell, Jr.
John R. Chappell, Jr.
William L. Goodloe
Adolph Skinner
Adolph Skinner
R. B. Hollingsworth
R. B. Hollingsworth
A. J. Wittenberg
A. J. Wittenberg
A. J. Wittenberg
Travis Johnson
Travis Johnson
John W. Stanley
W. Leland Parrish
Baxter H. Miller
J. Sigman Tumlin
William M. Werber
John C. Church
L. Procter Thomas
Robert S. Taylor
William A. Underwood
William A. Nixon
Virgil D. Hager
Whitehall Morrison, Jr.
Robert G. Blair
Roy W. Godley
Charles C. McGehee
William J. Armstrong

Pinehurst,NC
Willmington, NC
Raleigh, NC
Spartanburg ,SC
Kinston, NC
Charlotte, NC
Spartanburg, SC
Knoxville, TN
Richmond, VA
Richmond, VA
Valdosta, GA
Nashville, TN
Nashville, TN
Charlotte, NC
Charlotte, NC
Ponte Vedra, FL
Ponte Vedra, FL
Ponte Vedra, FL
Atlanta, GA
Atlanta, GA
Galax, VA
Copperhill, TN
Durham, NC
Bradenton, FL
Naples, FL
Henderson, NC
Aiken, SC
Aiken, SC
Asheboro, NC
Thomaston, GA
Durham, NC
Nashville, TN
Winston-Salem, NC
Hilton Head Island, SC
Talbotton, GA
Kensington, MD

1985
1986
1987
1988
1989
1990
1991
1992
1993
1994
1995
1996
1997
1998
1999
2000
2001
2002
2003
2004
2005
2006
2007
2008
2009
2010
2011
2012
2013
2014
2015
2016
2017
2018
2019

F. Joe Frasor
Leonard C. Harris
Alfred W. Wolff
Raymond E. Boucher
Arthur W. Lavidge
William J. Rendleman
Eugene F. Patterson
Adrian C. McManus, Jr.
Tom Flanagan
Ed Ingle
"Mickey" Moore
"Dyke" Peebles
William B. Reed
Tom Ruffin
Henry S. Farmer
William C. Elston
Charles M. Gilreath
Mick Soloff
Edward G. Furner
Bobby Fowler
Bill Edison
Tom Metzgar
George Dozier
Norton Montague
Joe Dean
Ned Olds
Bill Jones
Rick Priory
Bill Habermeyer
George Goosmann
David Pearce
Pat Parcells
Barry Teague
Bob Kunes
Gordon Jones


Hot Springs, AR
Pinehurst, NC
Hilton Head Island, SC
Naples, FL
Knoxville, TN
Greensboro, NC
Virginia Beach, VA
Athens, GA
Lake Charles, LA
Chattanooga, TN
Virginia Beach, VA
Southern Shores, NC
Birmingham, AL
Greensboro, NC
Atlanta, GA
Spartanburg, SC
Cartersville, GA
Chattanooga, TN
Hilton Head Island, SC
Marietta, GA
Hilton Head Island, SC
Haines City, FL
Marietta, GA
Birmingham, AL
Anderson, SC
Wilmington, NC
Birmingham, AL
Bonita Springs, FL
Tampa, FL
Asheville, NC
Browns, AL
Moneta, VA
Charlotte, NC
Charleston, SC
Ashville, NC






















Executive Director Team
Bill Johnstone - Executive Director & Kathie Johnstone - Director of Events ... 2019 - Present
Past Executive Secretaries
John Heller 1930-1948, FOUNDING MEMBER, first Secretary, member of the first Board of Directors

Chester Williams 1948-1968

Dudley Hale 1968-1972

Robert Fowler 1973-1985

Tony Dombrowski 1986-1994

J.D. Kirby 1995-2009

Dulany Hall 2009-2018
---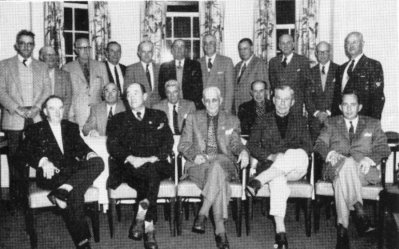 Board of Directors 1954